Brian Hennessy. An Australian in China. 2008
Like many ordinary cities in China, Dongbei Fushun does not impress at first sight. The same old grimy buildings and littered streets dominated by rampant spewing smokestacks. This is industrial north-east China. Dongbei: the home of coal, steel, and struggling State Owned Enterprises.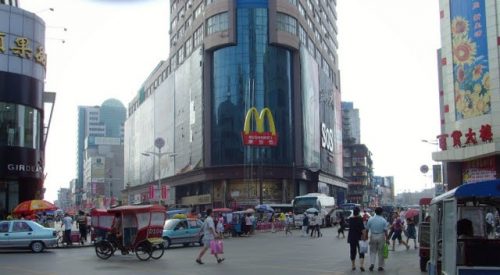 Downtown
Liaoning Province: Fushun city
______________________________________________________________
Dongbei, Fushun: three-wheeled cars, VW Jetta taxis, expensive European cars, pedicabs, tricycles, blue trucks belching black clouds of diesel exhaust, ageing buses loaded with tired workers, and street-scapes of laid-off workers trying to earn a living by selling something. Anything.
But there are always pleasant surprises just around a corner. Maybe a park with a lake, a modern department store, or an up-market restaurant offering top-class service to those who can afford it. You might also stumble upon a traditional amateur theatre keeping Manchu culture alive in front of a tea-drinking, beer-drinking, raucous working class audience; a tea-house with its relaxed elderly patrons reading newspapers; or a trendy coffee-house peopled by an elegantly dressed elite.
I found one such place hiding in a small old brick church on a narrow tree-lined avenue on the edge of downtown. Nobody could tell me the story behind this spiritual left-over from pre-revolution days. Built in 1913 in imitation European gothic, it is a humble marvel to something greater than architecture. A remnant of forgotten history asserting itself in a surrounding sea of materialism. This coffee house calls itself '1913'.
Inside, a young lady is playing music on an expensive baby-grand piano. There is a library of books and magazines, and comfortable living-room chairs which first embrace and then relax weary shoppers. This unlikely haven boasts a menu of exotic delights, and a small coterie of unintrusive and efficient waitresses.
I look around. Patrons taking their time to order. A young couple tete-a-teteing in a corner; three mature mesdammes chatting animatedly while eating huge glasses of ice-cream with small long-handled spoons; and a man eating Chinese food and reading a book (me). Across the room a regulation-size family (mum, dad, and their 'Little Emperor') are ordering a western meal.
The past and the present in tandem. The rough and the refined together. A nation riding the tiger of unbridled rapid development.
This is China.