Brian Hennessy. An Australian in China. June, 2019.
I hadn't been up there for ten years.  Would altitude sickness give me a headache to remember? Would my lungs be able to extract enough oxygen out of the rarefied atmosphere to keep brain and body functioning OK? And once extracted, would my heart cope with the strain of pumping it to these places? Would I be clear-headed, or confused?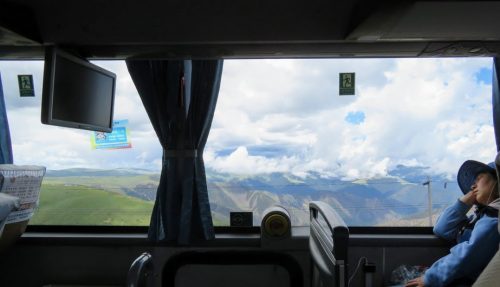 Light-headed in Litang
__________________________________________________________________________
Anxious thoughts on a bus heading up the Tibetan Plateau from Dujiangyan near the provincial city of Chengdu to an overnight stop at Kangding, 2650 metres above sea-level.
That's where I hope to acclimatise to the increasing altitude – for two nights – before continuing the journey to Litang at 4000 metres. The highest town in the world.
Ten years ago, it was a small bus filled with Tibetans quietly chanting their mantras and fingering their prayer-beads as we climbed. At that time The Lonely Planet guidebook described this highway – Highway 318 – as the most spectacular and dangerous one in the world.
Today a luxury coach filled mainly with Chinese folk who sleep all the way, glides along its even surface. Tibet is just up the road, so this new highway has a strategic purpose.
Compared to ten years ago, it's a smooth journey. Kilometres-long tunnels bore through massive leviathans, avoiding the more dangerous switchbacks which used to climb their way up to a barren pass on top – in winter covered in snow – before lunging down the other side to another valley below. Scary.
And when we do swing through a hairpin bend or cross a mountain pass, there's not a sound from anyone. In the old days the Tibetans would throw stuff into the air and pray harder and louder as we hurtled downhill. In the old days everyone also knew the driver. It's all a bit unreal now. Not as much rectum-puckering danger as there used to be.
The things you miss.
The occasional valleys are looking prosperous. Grey stone Tibetan houses in green fields of barley and corn. Three-stories. The bottom level for the animals in winter, the middle level for living, and the top a workplace for hanging the washing and drying the barley in season.
And cutting a silver slash through the middle of the valleys, a shallow stream with tiny mill-races bypassing the main flow to keep the prayer-wheels spinning. Then a village or two with local enterprises and mini-traffic jams and accommodation for Chinese travellers in their flash SUVs.
Looking up to the green slopes above, near the top, large white messages written in Tibetan. The script is beautiful. Elegant. Probably expressing something spiritual.
What used to be an eight-hour journey is now a six-hour one. So we arrive in Kangding early – at 2:00pm. I've got a couple of extra hours, so maybe I won't need to stay two nights to acclimatise. One might do.
A 6:00am departure the following morning in a smaller bus. A long slow climb up. Behind us, a towering Gonga Shan (at 7566 metres) glitters in the early morning light. More Tibetans aboard, heading home to Litang. Chinese passengers dozing off.
Me, wide awake and not wanting to miss anything. From here to Litang is the most spectacular part of the ride. Up, up, up to the green, green grasslands in summer above the alpine region below. A deep blue sky. Darker because of the thinner atmosphere. Celestial.
Black hairy yaks on the valley floors and slopes below. Patches of yellow wildflowers on the ridgetops. A nomad tent. An articulated tulaji tractor and trailer with family and supplies chugging along. The crests of high ridgelines in the distance at eye-level. Our bus motoring along on the roof of the world. Surreal.
Arriving in Litang after lunch sometime. Rapid development. An ancient Tibetan town now squeezed by modern Chinese hotels on the edge of town and cut by fancy streets through the centre. Some culture shock at the changes.
Stepping out of the air-conditioned capsule that has carried me here, and nearly collapsing on the concrete pavement outside the bus-station. The altitude hitting me hard. Dizzy. Difficulty breathing. A headache on the way.
Greeting my old friend Medok – it's been ten years – who drives me to her new boutique hotel on the main street. "Rest now, Laobu," she advises. "Breathe deeply and drink a lot of water. Take it easy going up and down the stairs, and don't do anything for a day or two. Don't even think about drinking any alcohol."
Maybe I should have stayed that extra day and night in Kangding.