Brian Hennessy. China Australia Consult. Chinese New Year, 2009.
Chongqing weather: there is nothing good to say about it. The summer is more scorching and humid than the tropics, and winter is a cold wet blanket which coats the ridges in mist and fogs the river valleys below. A town without colour at this time of year. However, winter will be worse for other folk.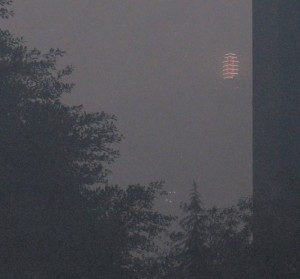 ______________________________________________________________________
It is too expensive to run the heater all day, every day, so we layer ourselves in clothing at home. We look like day-old chicks or balls of grandma's wool.
I look up to where the sky used to be. Grey. I look across the river to the CBD beyond. More grey. I look down to the garden at the bottom of my apartment building. Still more grey. Now I understand St Thomas: the apostle who refused to believe what he could not see or touch.
It's a weird sight. Is it possible that I have died and gone to heaven? I am on level 31, so I am closer to it than those below. Or maybe I had a heart-attack in my sleep last night, died on the operating table, and am having an out-of-body experience. The white light I am travelling towards has gone out because the hospital has not paid the electricity bill (this is China, folks).
I curl my toes…yes they are still there. I feel for my ears…yep, still got em. The chill grey blast of winter is murder for someone who loves colour, warmth, and travelling freely around the countryside. But wandering around the countryside at this time of year is not on.
It's getting closer to Chinese New Year, when millions of Chinese will be on the move. Booking every seat and open space on the buses and trains. Heading back home for the holidays. China's Christmas.
Advice for the newly arrived: don't go anywhere near a bus or railway station during Spring Festival. 20,000 locals at Caiyuanba bus and train station one day last year. You wouldn't get a ticket anyway. Same for the airport.
Better to stay at home, where it is warm and dry, despite the fog of winter and the grey, sombre environment outside. Home is where the TV, the computer, and the warm beds are. Home is a glass of Great Wall Red and a nip of Mr Wang's potent brew of health-care wine (I never ask what's in it – it might spoil the fun).
Ah Chongqing: in the middle of nowhere in The Middle Kingdom. 1600 kilometres upriver from Shanghai on the coast, above the famous Three Gorges, in a part of China that people back home haven't heard about yet (They will).
I think of peasant farmers and the urban poor. Living in mud and brick dwellings clustered around a few rice-paddies and fruit-trees in small rural enclaves, or in shacks built out of other people's rubbish on the edge of town. Existing rather than living up there in the isolated valleys of Chongqing's mountainous Municipality, or squatting down here in forgotten little communities on the fringe of society in the big smoke.
And further up the road, in western Sichuan, thousands of earthquake survivors still huddling in their temporary accommodation, at the base of the Tibetan Plateau which moved one day, crushing close to 100,000 people, and injuring so many hundreds of thousands more. Destroying homes, villages, towns, and livelihoods in the process. The bottom strata of society huddling together in cold metal demountables in a cold, cold world that has pulled the rug out from underneath them.
But I am dry, and I am warm, and I have nothing to complain about except a grey sky and a cold day outside my comfy apartment on Bei Bin Lu in Jiangbei district, Chongqing. A nip of Mr Wang's Cure-it-all or a glass of wine will ease the pain, no doubt.
By God I am lucky: I have a wife, children, a home, and a livelihood. None of my relatives are refugees from the earthquake or the economic downturn, and if I wish, I can get on a plane and fly back to Australia anytime I like.
I am a Waiguoren (foreigner) in China, and I have choices.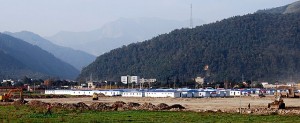 Camp for earthquake survivors in An Xian County, Sichuan.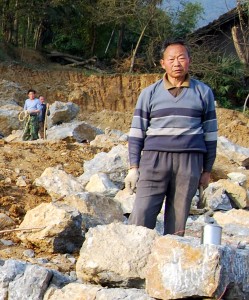 Survivor rebuilding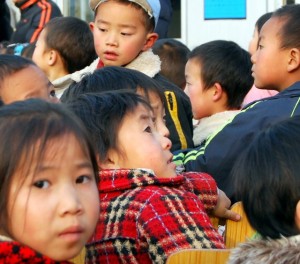 Surviving children