Brian Hennessy. An Australian in China. August, 2016.
Modern Chongqing is a booming metropolis containing 6.5 million residents (within a municipality of 30 million people). It straddles the Yangtze and Jialing Rivers upstream from the Three Gorges Dam, is 1600 kilometres west of Shanghai, and is the Beijing government's hub for growth in the hinterland of China. It has a three thousand year old history, and is changing fast (click photos to enlarge).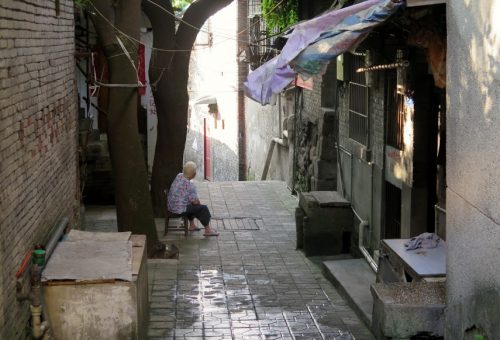 Demolishing history: Last days of an old neighbourhood
____________________________________________________________
The heart of this ancient river town is located on a peninsula ridgeline whose steep sides fall precipitously to the waters below. It used to be surrounded by a stone wall which provided protection from enemy attack.  
Today, most of the original neighbourhoods have been demolished to make way for freeways, high-rise apartments, and commercial buildings. Ancient urban architecture and a traditional lifestyle are disappearing fast, taking a part of Chongqing's unique identity with them.
Recently, I visited a surviving pocket of local history which is earmarked for demolition. It sits behind a remnant of the old wall on the edge of a very steep cliff overlooking the brown Yangtze River below and the shining glass towers of Nan Ping beyond.  
It's a quiet place, shaded by old huangge trees and cooled by breezes which circulate above the noisy metropolis below. Someone is going to make a lot of money out of this redevelopment.
Most of the residents have already departed, abandoning homes in which family members have lived for generations. Dwellings with stone foundations, wooden supports, and brick or wattle and daub walls. Little pieces of social and material history abutting the climbing, winding alleys which hug the contours of a descending peninsula ridgeline.
A few elderly and disabled people remain, plus a handful of middle-aged folk who appear to be either denying or resisting the inevitable. 
Knowing that I was observing the last days of this old community, I wandered around with my camera, chatting to the locals and photographing their environment. Most were happy to talk to a laowai (foreigner) who could speak a little Chinese language.
Let me describe them.
The first person to attract my attention was a hearing impaired man with a kindly face who invited me to smell his potted jasmine flowers. So I sat down on a wooden stool and shared a minute of the day with him. His more reserved hearing impaired wife sat opposite. All smiles.
Further up the alley, two local ladies were sitting outside the doorway to a dark airless room containing the bare necessities of life. They were very friendly. One, a smiling earth-mother type, and the other, a flirty neighbour who asked me the usual questions: "How old are you?", "Are you married?", and "How many children do you have?" Followed by the most important question of all: "How much money do you earn?" 
This is China. No need to be offended. Questions which we laowais find intrusive are standard procedure here for getting to know someone.
As we were speaking, a short, stocky man carrying his disabled wife on his back rushed past, heading downhill. The steps and steep slopes being unsuitable for any wheelchair. I wish I could have asked him where they were going.
In a narrow lane running off the main alley, two ladies with their backs to me were engaged in conversation – unaware of me and my camera. My candid shot capturing the moment.
I continue up the alley. An old woman sitting on a wooden bench outside her front door looks down at her feet as a pretty young lady carrying a bright yellow handbag on her shoulder and a smartphone in her hand hurries past. 
An elderly man in his pyjamas resting on stone seat half-way up the alley makes eye-contact before saying hello. I greet him with a Ni haoma, pengyou? (How are you, friend?) and sit beside him for a while. We talk about the weather – a little small talk breaking the cultural barrier. A nice man, partially disabled by a stroke.
I pass a young man who exits his dwelling with a cup of tea for his aged expressionless mum who sits on a small rickety chair on the other side of the alley. She stares into space as she accepts the cup. Possible dementia. Good son.
A sour looking middle-aged fellow who refuses to acknowledge my cheery Zao shang hao (Good morning) is left to stew in his own juice. Yes, I know: the bulldozers are coming soon and you haven't organised alternative accommodation. Time to stop complaining do something about it, mate.  
A chubby little lady in a pale green outfit and who seems to be in a hurry is surprised to meet a laowai coming up the steps toward her. I say Ni hao but it doesn't register. The last thing she expected to see today was a laowai saying hello in Chinese. Ten metres downhill she stops and looks back. I wave. She waves. Then off she scuttles. 
A bare-chested lone gentleman in a pair of grey trousers is scanning the known world from his front door. I ask him if it is OK to take his picture (it is), but his permission comes at a price. He hooks me into a one-sided conversation in his harsh Chongqing dialect which I have difficulty following. Couldn't shut him up. The photo was worth it though.
I get more conversation and goodwill from these laobaixing (ordinary people) than I had expected. I take their friendship at face-value and resist the urge to ask them for their thoughts on relocation. I know the answer anyway: the young people will be happy to move into a more modern apartment which has a bathroom and a kitchen; and the old folk will not want to leave their memories.
I take a side exit to a hanging walkway clinging to the side of the cliff and savour a view of the mighty Yangtze and its Changjiang Bridge below. 
A vessel laden with containers struggles upstream against a strong current fed by the monsoon and snow-melt from Tibet. Peak-hour traffic hurries along multiple riverside freeways to the CBD in downtown Chongqing.
It's a clear sunny day and the shining glass towers of redeveloped Nan Ping stand tall and proud on the opposite side of the river.
I walk back down to Zhongxing Rd., and catch a taxi back to my gated community in Jiangbei District and wonder how much time the residents of this doomed old neighbourhood have left before D-Day.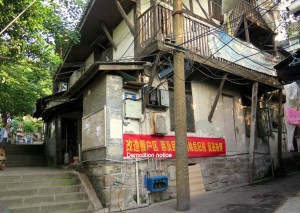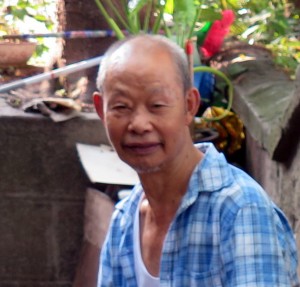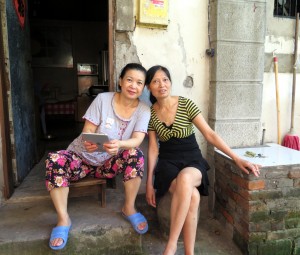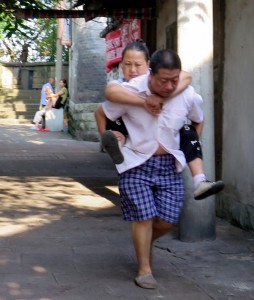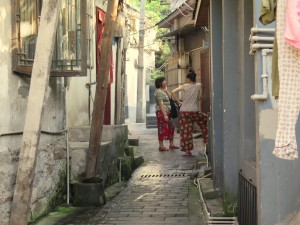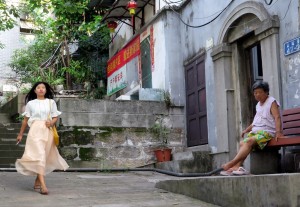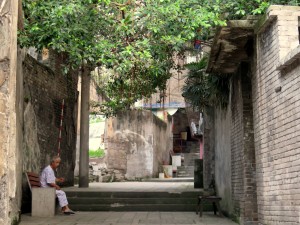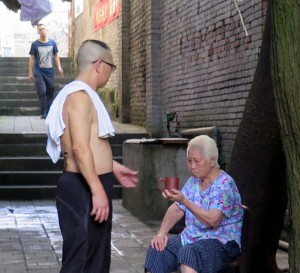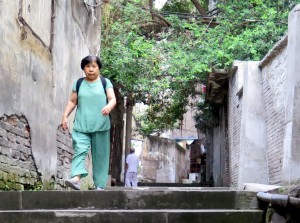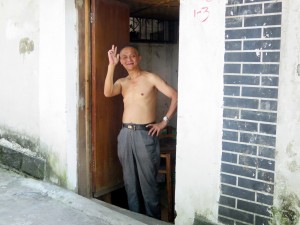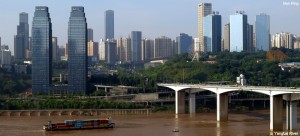 Buy 'Chongqing: an introduction'  from Amazon Kindle eBooks. Download a free App for your devices.