Brian Hennessy. China Australia Consult. 2007
This is where I live. Sandwiched between the main road running from Jiefangbei to Shapingba, and the main road to Yangjiaping and beyond, this little segment of Chongqing used to be typical of many other less than remarkable Chongqing districts. Not anymore.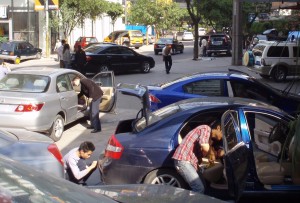 Yixueyuan Lu
_______________________________________________________________________
In the few years that I have lived here, I have seen it change from the depressing squalor that it once was, to the more dynamic environment that it is today. Things are beginning to happen here.
To the west of my apartment, and on the southern side of the street, Yixueyuan Lu is dedicated to motor mechanics. The smarter northern side is devoted to vehicle upholstery.
Eighteen months ago these small enterprises were dim and colourless places notable for the vacant looks on the faces of their bored proprieters, and the vacant shelves on the walls of their tiny, dim, premises. Both looking like they had been there forever. A smell of stagnation permeating the air.
To the east, more hole-in-the-wall establishments. Dirtier and more depressing. Furniture recyclers with their dismantled beds, wardrobes, and desks, spilling out of their dark airless domains in disordered array. Spray painters and their toxic smells, more mechanics and their oily footpaths, and the hopeless gloom of static equilibrium.
Eighteen months later however, Yixueyuan Lu is a different place. Capitalism's 'trickle-down' effect is making an appearance in this urban backwater. And my neighbourhood is brightening up as a result.
There is more colour. Proprietors are redecorating their premises and buying stock. Trees have been planted, and the road has been paved. Rising middle class wealth is evident. People are buying cars, and things are moving again. You can hear it. The hum of people doing business.
Competition for a slice of the market is lifting these folk out of the doldrums and adding something else to the air. You can sniff it as you walk down my street. Past the rows of bare new foreign cars parked in jostled disorder across the pavement waiting for their internal makeover. The aroma of hope. A whiff of the future.
People getting off their plastic stools in the back of their stores and out onto the pavement hustling for more business. Soon, Mr Zhang the upholsterer will have enough money to relocate from his single-room accommodation at the back of his store to a new home.
Mr Li and his family have already done so. They have moved into my apartment block and bought a small laundry business on the ground floor. And Mrs Huang, a furniture re-cycler's wife, is trying her luck with a small store selling rice, noodles, cookies, beer, and cigarettes.
Eighteen months ago, the view from my balcony was not worth writing home about. Now, as three adjacent new high-rise apartment buildings near completion, the street-scape below is changing. Old buildings are going. Extended families of enterprising migrant workers with their second-hand blue trucks have arrived and are demolishing and removing every brick, tile, and piece of concrete from the premises for re-cycling somewhere else.
Enterprise. From the high-rise building contractor, to the traders below, to the migrant workers chipping mortar off the old bricks.
Yes, things are finally happening in Yixueyuan Lu. All praise to Deng Xiao Ping and his breakthrough policy of "Opening up and reform".