Brian Hennessy. China Australia Consult. 2004
Tottering on platform shoes which wrong-foot her centre of gravity, she penetrates in graceless fashion through the membrane of the crowd. A protozoic promise of new life for a shrivelled socialist cell. XXXL hips stretching an S size lavender tu-tu borrowed from someone's mozzie-net. Her top hanging by a couple of threads. A small tattoo of a butterfly imprinted on one massive upper arm.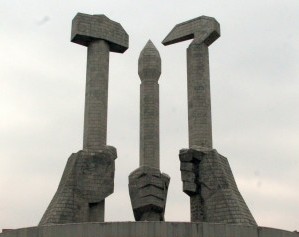 A workers park
_______________________________________________________________________
Madam Butterfly indeed. This back street diva with her nose in the air and her feet in a Chongqing gutter.
Restrained acknowledgement of her warm welcome with a dismissive flick of her miniature hand, fingers arched back in that classic pose reserved for Peking opera transvestites. Head tilted a little to one side, and the sweetest smile this side of a kindergarten group pic. A roar of approval from her subjects. Something big is about to happen here. Who is this lady?
The grand entrance done, she sashays across the tarmac towards a pot-bellied man with a microphone. An old 'Party' man, no doubt, who introduces her in authoritarian tones (they know her anyway) as he commands an army of peasants again on a Sunday afternoon in a workers park.
Behind him, two men with trombones, another with a trumpet, and a woman with an array of bamboo flutes get ready to play. Another fellow picks up his guitar. An important looking gentleman in charge of an amplifier has a long draw on his smoke before tossing it into the shrubbery behind. Two large black speakers, looking like they had been mauled by lion on the way to the park, crackle in anticipation.
She accepts the microphone, turns, and faces the audience. And standing there with legs splayed and belly searching for freedom, slowly rolls back on her heels…and Sings!

Li Na's technically difficult: Xizang Gao Yuan, that haunting call across the mountains and valleys up there on the roof of the world. A piercing cry, shattering the air itself and rising like Chomalangma to the stratosphere above. This traditional song from the Tibetan Plateau. The ugliness of the singer lost somewhere between the rapture of her song and the memory of a lost worker's paradise alive in her voice. The exquisite sadness. The longing. The lost. Gone like the 1950's. Gone like the young Dalai Lama through Nepal to India and on to exile in Dharamsala forever.
This park. These people. Brown skinned peasants. Migrant workers. Bang-bang men. The wiry middle-aged. The retired. The unemployed. The wives: faded beauties carrying a little weight now. And the children: hostage to a noble ideal of the past. Uncomprehending youngsters who have no idea yet of how difficult life is going to be for them in this bosses paradise.
A worker's park packed with workers who have no work. The newly despised. No more Communist ideology to extol their virtues. No more songs and dances choreographed and performed by compliant arty-farty sicophants celebrating the big lie – new socialist man in a workers paradise to come. No more vision and no more hope. Maybe they used to believe in this stuff, I dunno. Maybe they didn't. Perhaps it was good while it lasted.

Above the crowd, chiselled stone workers posing heroically and triumphant in true soviet style. Demonstrating their commitment to the dream from atop a stone podium in the centre of the park. Raising flags, hammering metal, and scything wheat. Looking so proud and determined. Below, a loose collection of the forgotten ones, singing their nostalgic reminders of a failed experiment and a time when they dared to hope.
Two middle aged ladies with yesterday's vision in their eyes, dancing the dream. Eyes focused somewhere up there, a false ecstasy on their faces maintained by a stubborn useless ignorant pride.
Li Nar's lament for Tibet, the right song for the masses now. The show's over. The fat lady has sung. Sad. So sad.