Brian Hennessy. China Australia Consult. 2005
She was my friend Xiao Wang. We had met two years ago when she was a Phd student of mine (my job was to teach these doctors how to write up their research). She lived in a dingy flat on campus with her mother and daughter, while her husband was away working in Chengdu.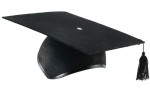 Earning her Phd
______________________________________________________________
We bumped into each other on the street. I was going for an evening walk – through the university gardens toward the hospital grounds to see the new swimming pool there, before heading back to my apartment.

Her father had recently gone broke, the family was in debt, and she had a useless younger brother who was a burden to them. She was the rock. She would be the family's future. The financial backbone. This was her duty.
Six months ago she had asked me to correct her paper on epilepsy, her research project. She is investigating reported central nervous system damage in patients who have been prescribed large doses of a traditional chinese medicine in rural counties. Today, her daughter was in the pool with her friends.

I know some of these children, for I am Mr Christmas, the 'laowai' (foreigner) with the white beard. The guy who takes them for a burn around the shallow end in the university pool as they hang onto their floaties screaming in mock terror. Mothers grinning, fathers giving me an approving nod, as I navigate my way through a bobbing mass of peeing Chinese bathers (I know they are peeing, because the tiles on the bottom of the pool are growing hair).

"I can get a ticket for you to enter the pool, Brain" (I never correct this mispronunciation). My daughter is with friends, come home with me and I'll get one for you. If you come back at 9:00pm, the pool will be empty, and you can do a few laps."

Well, she didn't say all this in English, but my Chinese lingo is good enough now to get the jist of the message. So off we went to the old hospital accommodation beside the new First Affiliated Peoples Hospital. Down a dark lane carved into a minor cliff-face reinforced with a beautiful mossy old stone wall. Around a corner into a shady courtyard, then up a dingy flight of stairs to her apartment. A hole in the wall. Light from inside escaping through cracks in a poorly hung door.

Such humble digs. Bugger all furniture, most of it literally on its last legs. Stuff you would find at the rubbish tip back home. And there alongside the living room wall, the smallest, ugliest computer desk I have ever seen. Chipboard. Its insides reaching for daylight and freedom. Some packing case pine nailed to the supports, preventing a list to starboard. Without this, she'd capsize for sure. I know about these things. I was a fisherman once.

A good looking black computer hides behind an untidy pile of manila folders which competes with a keyboard for limited desktop space. But the beauty is skin deep. The bloody thing gives her trouble. She told me so. The internet service is erratic.

This is where Dr Wang, Phd student and Neurologist, writes up her research. This is where she completed her paper on Epilepsy which will be published in an American medical journal next month. This is the place where she will earn her Phd.

Such good science coming out of a dump like this. Produced by an unassuming, decent young woman who would never complain about her life and her duty to her family. Working hard, angling for that post-doctoral research job at Sichuan University in Chengdu so that she can reunite with her husband and father. Maybe next year.

Why do I like China so much? It's the people.

Postscript 2015:
Dr Wang is now the Deputy Director of the Department of Neurology in a famous hospital in Chengdu. She is in line for the Directorship when it becomes vacant.
.
.