Brian Hennessy. An Australian in China. 2006.
Travel agencies around the world display the photos: sensually moulded limestone kharst mountains huddled together – a jumble of softly rounded silhouettes pushing up into a hazy blue south China sky. Iconic stuff. Although it's a popular tourist destination, don't let that worry you – it's a beautiful part of the world and well worth a visit. Really.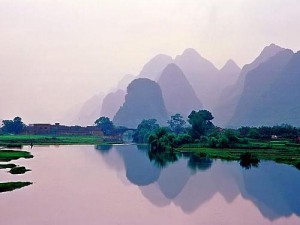 To Yangshuo
_______________________________________________________________________
If you are on a boat floating, drifting, or motoring lazily down the shallow Li River from Guilin to Yangshuo in Guangxi Province, there's a lot to take in.
The mountains jostle for attention as you pass by. Some of them shouldering their way forward to the edge of the river as it flows a little faster through a gentle gorge, others parading seductively behind ripe green fields of fruit trees, tea, and rice on floodplains stretching into the middle distance.
Here and there a village. As ancient as Lao Zi or Zhuang Zi, or some other revered Chinese sage. Yesterday, and today and tomorrow caught in a delightful trap of static confucian society.
From a distance, a romantic ideal. Up close; dingy, dishevelled places of unclean thoroughfares and smelly toilets. Pungent is the word. Stay on the boat is my advice.
How do they do it? These farming and fishing Zhuang minority people. How do they watch a modern world float past them every day without drifting away from their timeless inheritance? 
Is it ignorance, or choice, or acceptance, or not knowing any better, or appreciating what they already have?
Perhaps these modest brown villages in this pristine green Eden provide a sustaining mix of history, meaning, and belonging. Rhythmic certainty at a time of rapid social and economic change in greater China.
At least these people own 'the good earth' under their feet (apologies to Pearl Buck and her Pulitzer prize winning novel about village life in China). Within their constraints they live a life governed by the seasons, the rise and fall of a river, and the spectacular natural beauty surrounding them. Why would they live anywhere else, eh?
We dock at Yangshuo, a lively and lovely tourist trap of a town nestled among low hills buttressing the river Li. You can get Western coffee here, the internet, and plenty of backpacker style foreign food. And there's a spectacular show on the river every evening also. A brainchild of Zhang Yimou, the famous film director and producer of the Beijing Olympics opening ceremony.
You can have your photograph taken with a fisherman and his captive diving birds, float for awhile on a bamboo raft, or hire a bicycle and pedal off into the countryside to explore neighbouring village life. Or learn Mandarin, Tai Chi, or Kung Fu. All of this among the prettiest scenery you may encounter this side of the Tibetan Plateau (Dragon's Back Rice Terraces excepted).
I enter a faux Western/Zhuang cafe on Xi Jie (West, or Foreigner's Street) and order a hamburger and a glass of red.
Welcome to picture perfect postcard China.
Cheers, folks!